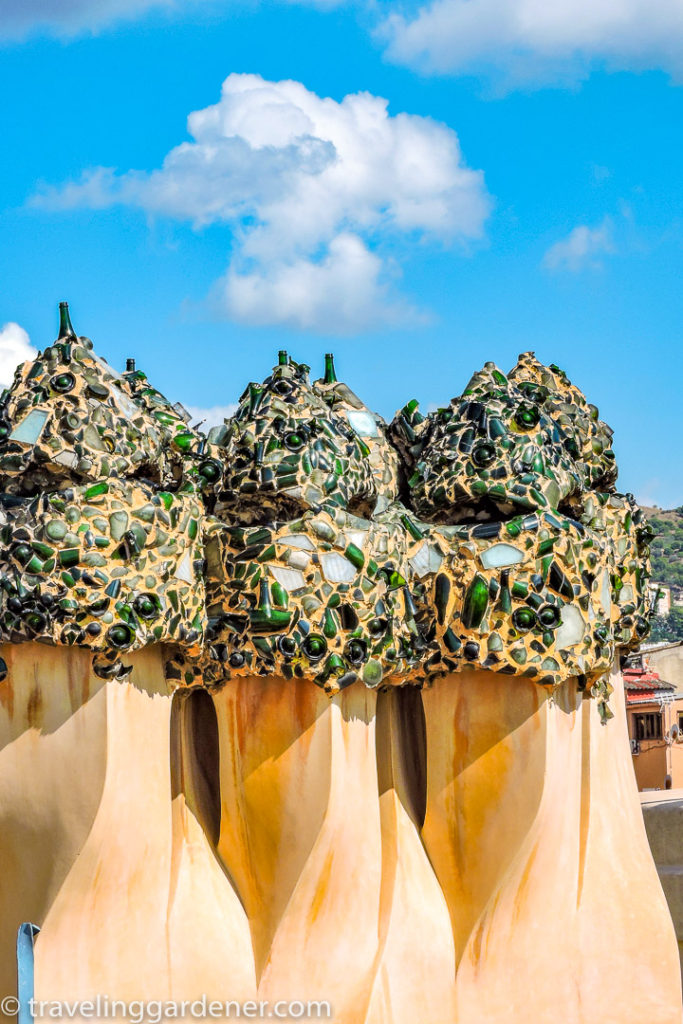 When someone tells you a destination is "wonderful" or "beautiful" and how they "loved" a particular city, you never quite know what it will be like for you, so it was for me as I headed to Barcelona, Spain. I had heard great things about this unique city and in just a few days of my arrival, I loved it beyond words. It is a city by the sea with a climate that draws the people, both locals and tourists out of doors to enjoy life walking tree-lined streets such as the Ramblas, enjoying the cafes, admiring the ironwork railings of balconies, and decorative doorways.
The best thing for me was I discovered Modernisme* architecture. This is the defining look of Catalonia, a regional take on Art Nouveau. While there were several architects of the Modernisme period, Antonio Gaudí is best known for the look which shaped Barcelona at the end of the 19th century into the early 20th century, roughly 1888-1911. For me, I came away describing it as an architectural style of no unadorned line.
I am not qualified to write about the architecture of Antonio Gaudí but I must try because during my visit to Barcelona I was captivated by nature inspired architecture built into this fascinating city.
As a young child, Gaudí noticed form, shape, and craft in his Father's workshop. He found inspiration in the shapes, patterns, and structures in nature. He was deeply interested in geometry. He studied the structure of a leaf recognizing a perfect dispersal shape for falling rain. He saw the trunk of a tree illustrated a form for branching support of a roof, the spine of a lizard provides a frame for a ceiling, the spiral of the nautilus a decorative finish. I especially loved his use of a palm frond for the structure of a fence, for a decorative imprint. Every element in nature became an inspiration for his architecture. He studied architecture and began his professional career in 1879.
I saw many examples of Gaudí 's work while I was in Barcelona but I want to focus on a few of his best-known works.
Park Güell in Barcelona was the idea of Eusebi Güell, inspired by the ideas of garden cities and urbanization he discovered in his travels. He wanted to build an exclusive community for 60 wealthy homeowners on a rocky, steep piece of land outside Barcelona. Gaudí was engaged to develop the community site. There was to be a church, a market, sports fields and space for open-air performances. It was a precursor of today's Home Owners Association.
Gaudí was such a visionary he designed water collection systems into the plan with a cistern and viaducts for water collection and distribution. Water falling on the theatre space is collected and directed to the underground cistern.
The theatre is surrounded by a long serpentine bench with seats ergonomically designed for comfort and made beautiful with mosaic fragments of tiles. The market pavilion with his use of 87columns placed not at right angles to the floor but with a tilt imitating the trunks and branching structure of trees is a massive space.
The seasons of the year in illustrated in mosaics decorate the ceiling. The Palm frond was used as decoration and structural support for walls and for fencing.
Gaudí designed both Casa Batlló and Casa Milà two high-end residential properties on the street of the nonconformity, Passeig de Gràcia in Barcelona named that because some of the most daring architecture of the time was located here.
The entire front facade of the Casa Batlló is a colorful mix of botanical elements inlaid with ceramic fragments creating a colorful garden of flowers. Balconies were ornately styled with wrought iron in a style resembling a mask.
In a multi-level apartment building hallways are often dark and enclosed but here Gaudí made interior light tunnels covered in tiles in varying shades of blue to bring light into the windows on each floor.
A stairway inside the interior light tunnel of Casa Milà is sheltered by a leaf-shaped canopy. The surrounding walls are in floral colors.
The skylights, chimneys, vents and staircase exits on the roof served a utilitarian function but were all designed as sculptural elements. A massive iron gate once served as a garage door.
Dragons are significant in Barcelona, "Saint George, patron saint of Catalonia, killed a fierce dragon that was about to devour the Cleodolinda maid" and as such dragons appear in many forms throughout the city. Gaudí designed a dragon gate for entrance to Güell Pavilions.
He highly respected craftsmen and their ability to build and design significant work. This gate is an example something might be utilitarian and ordinary and is instead extraordinary.
He designed "a dragon, with glass eyes; it represented Ladon, offspring of Typhus, the dragon that guarded the Garden of the Hesperides, which was overcome by Hercules as one of his twelve labors"
A small water fountain, Font d'Hércules, found in the Palau Reial de Pedralbes (royal palace) garden is a dragon.
Gaudí, a deeply religious man, eventually turned his all his architectural energies into the Sagrada Familia church in 1883. From a distance, this is an enormous building with 18 soaring spires with the tallest (yet to be completed) reaching 557 feet high. But for me, it was what I discovered up close in the nature-inspired architecture that left me amazed.
His interior columns were based on the growth and branching structure of trees. For the nave of the church, he used a branching structure for the many columns (it maybe 36 or 57) including the use of knots on a tree for the branching support. The spacing of columns gives you the sense of being in a forest.
The windows of the church mimic the light of day with the early morning east light shining through blues, greens, and subtle yellow. The light of the west side windows shines through reds, oranges and deep yellow mimicking the sunset of the day.
The church spires are topped with baskets of oranges and apples. A tree of life is alive with white doves.
Everywhere you look there are the elements and patterns of nature in the fanciful details, roses, leaves, branches, oranges, all reinforcing the idea of the perfect architecture of nature.
This church has been under construction since 1882 and the goal is for it to be completed in 2026, the 100th anniversary of Antonio Gaudí 's death. It sounds crazy but once you see it you are a believer in the beauty and the power of this enormous project. An estimated 3,000,000 visitors come each year.
If you have the opportunity to visit Barcelona, I assure you there is much to discover and perhaps you too will love it. Surely anyone who loves plants and appreciates nature's magic will find a garden in the architecture of the city.
Resources
Modernisme The Beauty of A Unique Artistic Movement, Dos De Arte Editions Barcelona, 2017
Gaudí From Nature to Architecture by Maria Antonietta Crippa, Taschen, 2015
*Modernisme in Catalonia was due in part to a commitment to the artisan, traditional crafts and skills in wood, sculptural ironwork, metal, clay sculpture, ceramic mosaics for the creation of art. A great renaissance of art, literature and music celebrating the culture of Catalan and a resistance to the automated, universal industrial revolution.
Modernisme produced many famous architects: The best known among them include the following:
The creative genius: Antoni Gaudí
The founder: Lluis Domènech i Montaner.
His work survived the Noucentisme: Josep Puig i Cadafalch.
The Nativity Facade has double bronze doors designed by current head sculptor, Etsuro Sotoo, a wall of green leaves with red and yellow blossoms. Among the greenery are butterflies, ladybugs, blossoms, and lizards. The current artisans continue Gaudí's dream.